Armadillos
Armadillos.

No villain is more diabolic that THE ARMADILLO, Captain America's one true arch-nemesis.
They exist simply to let Mother Nature show you that it is possible to be a Transformer, except without the cool transforming sound and the need for Energon.
According to Wikipedia, which is the absolute last word on credible and authoritative information, "armadillos are small placental mammals, known for having a leathery armor shell. This armor-like skin appears to be the main defense of many armadillos. The South American three-banded armadillo relies heavily on its armor for protection. When threatened by a predator, it frequently rolls up into a ball" and then proceeds to fuck up that predator's shit by being a small sphere of wanton destruction. The last thing that most coyotes see when they, perhaps foolishly decide to attack an armadillo, is the blur of claws and teeth from under a round armoured shell.

If you ever see an armadillo in this state, RUN. RUN FOR YOUR LIVES.
Do not be fooled by the cuteness in the picture above. "Aww, he turned into a ball. Look, Sheila! He turned into a ball! How cute is that?" That is no ball of cuteness and adorability, which is a word I just made up. That right there is a whirling mass of compact destruction, all scales and teeth and claws. It's like an organic rolling tank designed to protect the armadillo from harm and yet enable it to roll the fuck out and kick some ass. Motherfucker is a tank, is all I'm saying.

                Fuck yeah, armadillo tank.
Armadillos are the undeniable badasses of the animal kingdom. In fact, if Marvel were smarter, they would have named Wolverine Armadillo instead and let him have the mutant powers of being a stone-cold badass with the ability to kill you outright by rolling into a ball. Because that is how insanely ruthless and awesome armadillos are. Imagine if you were bitten by an armadillo. You'd be a fucking were-armadillo, perhaps the most feared creature of the night, apart from that homeless guy who always has a smile and his penis out whenever you come back home late from work.
Except that they're not.
In truth, armadillos are somewhat retarded.
They eat mostly insects, with no lust for blood or flesh, thus already making were-armadillos more pointless than the sparkly vampires of Twilight. At least the Twamps still partake of blood.
Armadillos also have big eyes, but poor vision. They have these large, soulful eyes that help them see absolutely zero predators from far away. This is perhaps the most depressing fact about armadillos ever. This is like saying that you have a huge penis, a veritable monster cock, but some crippling disability that prevents you from using your oversized member for sweet lovemaking.
Not all armadillos can roll into a sweet, sweet ball. In fact, the North American Nine-banded Armadillo tends to jump straight in the air when surprised, and consequently often collides with the undercarriage or fenders of passing vehicles. There are no statistics for the number of armadillo deaths caused by jumping straight up into a car, or at least none that I could find through sheer laziness alone, so I'm just going to assume that every year 16,000,000 North American Nine-banded Armadillos die due to head trauma from colliding head-first with passing vehicles.
In short, armadillos are lame. That is all.
---
This Ad Campaign Will Fuel Your Nightmares
Ad campaigns for fast moving consumer goods during the festive season aren't new concepts. Most of these campaigns are done cheaply and uncreatively, because honestly, the demand for things like canned drinks and sweets is inelastic as fuck during this period. So most of the ads that are rolled out usually end up looking like this, boring and bland, full of the colour red and Chinese characters.
Prosperity, whatever.
However, this year, Yeo's, a well-known brand of canned/bottled/packet drinks in Singapore decided that this shit wasn't going to cut it. They needed something with a little more… oomph.
The meeting with the marketing executives probably went like this:
" I think we need to roll out a new ad campaign for 2011, y'know, to usher in the new year and to get more people to buy our products for the Chinese New Year period," said one Yeo's Marketing Executive to another, his carefully-coiffed hair resisting the natural laws of physics adamantly.
" You're right. Something that speaks to the whole family. That says that Yeo's is a traditional company that makes drinks that entire generations have loved. Yes. The key word here is 'traditional'. Okay, let's do this. Throw in a lot of the colour red. Red is good. Shows that we're passionate and traditional. Damn, I love that word. Traditional. " agreed his partner agreeingly.
" I don't know. I think we need some impact. We need more buzzwords in our campaign. Something that would really spice things up. Something that will have our target market reacting. We don't want to just fucking have a poster that no one will notice. We need something that grabs attention and holds it there. Something that peers into your soul."
" Yes, yes I see where you're coming from. HA, I said 'coming'. But no, yes, I agree. We need something that will lock eyes with whoever is looking at the poster. Something that will truly capture his heart and mind. If he we were to look away, his very existence will be compromised."
" Fuck, I think we're on to something here. Okay, let's do this shit!"
And so, they came up with this.
Look at this monstrosity. Peer into her soulless eyes. Do you feel it? That fear that creeps up along your spine and penetrates into your very being?
This is what Yeo's thinks will persuade you into buying sweetened drinks for the festive season.
Look into its dead eyes.
It just wants to consume your soul and eat the still-beating hearts of your loved ones. That isn't rouge or lipstick that the demoness is wearing. It's the crimson blood of a thousand unborn children. That gaudy headdress was made out of the shredded remains of garments worn by petrified virgin girls, sacrificed to appease the Demon Lady that Doth Bringeth Sweet Drinks and Death.
Happy New Year.
---
---
Rain
"The fuck? Why are you talking about a fucking weather phenomenon?" you ask incredulously, a look of puzzled bewilderment upon your face.
                                 Not this, you stupid fuck.
"Shut the fuck up, you stupid… fucking… stupid-face," I shout angrily and creatively at you while kicking you in the crotch.
While the soothing sheets of cascading rain can be a pleasant weather effect, I'm not talking about liquid precipitation. No, I'm talking about the living god that is Rain.
Born as Jung Ji-Hoon on June 25, 1982 in South Korea, he decided to take on the moniker of Rain after realising just how fucking awesome he is at raining deathblows on his enemies and realising that the name Rain made for awesome sexual innuendo.
"Rain's coming, baby. Oh yeah. All over you, girl."
"Rain's gonna make you wet. With desire."
He is a pop singer, dancer, model, actor, businessman, and designer as well as the living embodiment of a sexgod. When Rain wants to get some, he just walks out in the sunlight topless, just like that faggot Edward Cullen. Except instead of turning all sparkly, whenever Rain walks out of his house without a shirt on, females everywhere sexperience a three-hour long orgasm that rocks your world at a magnitude of 11 on the Richter scale. That's classified scientifically as an EPIC sexquake, ladies.
But motherfucker isn't just fucking awesome.
Well, actually, yes he is.
                That's how I look like every morning too.
His abs are so fucking defined that Hershey's have commissioned the use of a likeness of his abs as a mould for producing chocolate bars. He has muscles in places that you can only imagine of pretending to be able to touch on your body. His penis can breathe fire and is often used in conflicts as a massive flamethrower; the weapon to end all wars. All fantasy literature that have dragons in them are actually referencing Rain's penis.
                                      Rain's penis finds another victim.
To cut a long story short, to become half the man that Rain is, is what you should aim to be.
---
Five Word Movie Synopsis: Step Up 3D
Synopsis:  People dance in glorious 3D.
---
---
No really, who are they again?

LOLOLOLOL
---
(via fuckyeahgain)
Proof that sexy things come in small packages.
---
---
This Fucking Queue At 313 For Korean Pop Night Concert 2010 Tickets
Queues are fucking ridiculous.
I'm not talking about the long, orderly lines where people patiently wait their fucking turn and keep their mouths shut. No, I'm talking about the fucking massive failure at organisation and management that is the queue for the Korean Pop Night Concert 2010.
To call it a fucking whirlwind of chaos and sheer, utter retardedness is to insult both opponents of order and special people everywhere.
Proof Label, the geniuses behind this fucking mess, decided in their infinite wisdom to abandon logic and reason. While happily announcing through their Facebook page that tickets for the most expensive seats would go on sale at nine in the morning on the 4th of September 2010, they decided to let a fucking massive pile of people coagulate into a sticky, sweaty mess at twelve midnight the night before. After patting themselves on the back on a job well done, they stood back to watch the shitstorm ensue.
Oh and these people in this so-called "queue"? They're queuing for queue numbers, not tickets. That's right, there's no guarantee that any of them can even get the tickets at all. The queue numbers were randomly given out and are entirely pointless.
Please, motherfuckers, if you want to organise something, perhaps anticipating the admittedly ridiculous turnout would be beneficial. Letting 2000 plus people squeeze into the tiny space in front of 313 would be awesome if you were planning on shooting a massive orgy, but for a fucking queue, it is beyond ridiculous.
Also, if I'm standing amidst a crowd of young teen girls and all I can do is feel the wrath of a thousand angry wasps, then something is not right. I have never, ever been so displeased by so many young nubile females before.
On a related note, to the stupid dumbfuck behind me, if I wanted to hear your endless insider information about what the concert would be like, I would have read your fucking Livejournal where you can fucking gush about what you think is going to happen at the concert. Fuck your fucking opinions. In fact, fuck your face.
---
Five Word Movie Synopsis: The Expendables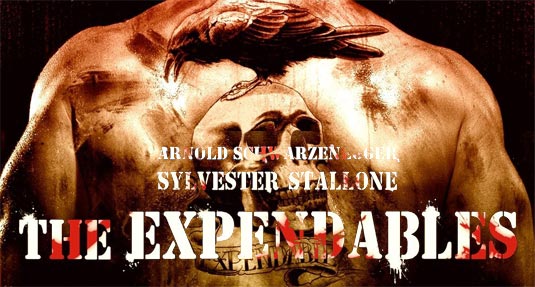 Synopsis: Ugly old men and explosions.
---
Game Review: Starcraft 2
Since Starcraft 2 is the biggest game to have been released this year, I felt that it was my civic duty to review the game for you so that you may decide whether or not it's worth buying or indeed, downloading from The Pirate Bay. On a separate note, illegal downloading is illegal.
However, seeing how I have never played the game due to my being too shockingly poor to actually purchase a copy of the game to review, and since I am far too upright a citizen to support the nefariousness of peer-to-peer file-sharing, I will be reviewing Starcraft 2 based on this picture I found off the Internet.
                                           My review copy of Starcraft 2
I will be grading each element of the game on a scale from 1 to Megan Fox, where Vanessa Hudgens represents the midpoint of said magical scale.
Graphics: 1 to maybe Ellen Degeneres
This game appears to be visually disappointing. While there is some kind of glowy effect around the word Starcraft, the effect itself is marred by the overall blurriness and overpixelation which would suggest this game is perhaps, from a technological perspective, a remnant from the PlayStation One era.
I do like the black and blue scheme that they have chosen though. It reminds me of the Backstreet Boys, truly the singing powerhouses of the late Nineties. I will always love you, B-rok.
Sound: Rosie O'Donnell, which is shockingly below 1
I have been staring at this game for the past twenty minutes. Honestly, apart from the plaintively dying whines of this laptop I am typing on, there is no aural pleasure to be had from Starcraft 2. I know that sometimes silence can be deafening but in this case, it is clearly a black hole that sucks in whatever atmosphere the game may have tried to build.
However, after getting bored and deciding to fiddle around with iTunes, I have discovered that playing some Barry Manilow does actually help with the atmosphere of the game. Indeed, the dulcet tones of Manilow's sweet, sweet voice brings this rating for the sound of this game to at the very least, a Jessica Alba. Or a Mandy Moore, since we are going with the whole Barry Manilow thing.
Gameplay: A solid Pamela Anderson
Just like the former Mrs. Whatever-Aging-Rockstar, this game appears, at first, to be moderately attractive and fun. However, spend some time with it and you realise that it just stares back at you blankly doing absolutely nothing. While I had fun resizing the game and drawing penises (penii?) all over the place, the fact remains that the gameplay is sadly rather disappointing. Much like the action in Iron Man 2, because no really, like three fights in total? What a complete rip-off.
Total: Oprah Winfrey
This game is overhyped and way-too-loved. Granted, I didn't actually play it. In fact all I did was take a picture from the Internet and draw penises (penii?) on it. However, this review is as unbiased and accurate as you can get in my humble opinion. Why? Fuck you, that's why.
---
---
Twitter
For all 3 of you who have no idea what Twitter is, it's a social media platform  geared towards Internet-savvy individuals who are too busy to type out messages that are longer than 140 characters. If you think about it, that's not really a lot. You can maybe playfully flirt with/put the fear of God into young female Korean celebrities with tweets such as " I LOVE YOU. YOUR OVARIES BELONG TO ME, HARA." or "YOU MAY NOT KNOW IT NOW BUT ONE DAY MY SPERM SHALL ENTER YOU NANA." but that's really about all you can do with Twitter.
                                              REPLY TO MY TWEETS DAMMIT.
What is amazing is that everyone seems to have a Twitter account, and this includes important people. By important people, I mean female Korean celebrities such as @_sweethara and people like Neil Patrick Harris, who can be tweeted at via @ActuallyNPH. And everyone knows that NPH is a god amongst men. If he who wroteth the Bro Code doth tweeteth, well, us mere mortals musteth followeth. On a separate yet related note, adding "-eth" to any word immediately makes it look olde-looking. How awesome am I? So awesome.
Anyway, as far as I can tell, people only tweet for several reasons, all of which I will helpfully list out below in a helpful list so as to help you be able to list out said reasons.
Through the magic of numbered lists, which, fun fact, were invented by Mexican rebels during the Siege of Bella Tacos in 1882 to overcome the tyranny of lists with symbols on them, I will now unveil the reasons. With great aplomb. Has anyone ever wondered what an "aplomb" is and who the fuck even comes up with words like "aplomb". Try and say it slowly. "Aplomb." It sounds like something fat just mated with the most bulbous thing you can ever think of. In my case, I can only think of fat bulbs. Yeah I can't think of anything better. Why? Because fuck you, that's why.
 REASONS WHY PEOPLE TWEET
They're bored. No really. How many tweets actually go " Fuck my life, I am bored" ? 70% of all tweets, according to the nonexistent research that I didn't do. It's just so that fellow Tweeple, which may the official term for people who use Twitter, I have no idea if it really is, can sympathise and offer pointless advice and/or share their own experience of boredom.
They want to share whatever music/video/link that they think is so fucking awesome regardless of whether other people think so. " @BigJohnStudd Dude check this video of this chimp totally raping this frog! Fuck it's so awesome!" That video is awesome, by the way.
They want to leave cryptic and mysterious tweets that are angst-ridden/emotional/clearly delusional and are obviously targetted to someone but they have instead chosen to tweet it to the general public. " I hate that you don't even know how I feel" This will allow other Twitizens, which is how people with lisps pronounce "citizens", to show their concern and worry and attention which will then be shrugged off by the person who tweeted the mysterious tweet with a casual " Oh it's nothing lol. Haha." This will lead to even more attention which begins an endless cycle of emo attention-grabbing.
To retweet what other people have said because they wish they said it themselves. This is especially true with people who retweet what celebrities have tweeted. " RT @Funnycomedianguy I may be fat and ugly, but girls love a rich, funny guy." Retweeting gives them a sense of purpose and a sense that hey, that dude thinks just like me even though he thought of it first and I'm merely agreeing. But no really, we are totally alike. Holy shit, it's like me and Neil Patrick Harris are on the same wavelength. Fuck, I am Neil Patrick Harris.
To see actual examples of all of this, follow me @DickSwagger because I'm shameless that way. 
---
---